Furnished rentals have experienced a major development over the past 10 years. As a consequence, many owners see undeniable benefits into them. But are there any rules to comply with? How to prepare one's accommodation in order to get into furnished rental? How to calculate the amount of the rent? And how to choose the right tenant?
In this post, we will try to answer all of these questions that owners might ask themselves before embarking on the furnished rental adventure.
For those of you who might not want to read until the end, it's simple. Our advice for successfully renting an apartment is based on 4 points:
Respect the rules
Offer quality housing
Determine a consistent rent
Choose the adequate tenant
If you are still hesitating between traditional empty rental and furnished rental, you can consult our article to learn everything about the advantages of furnished rentals. But if you have already chosen the latter, the following tips are for you!
Tip #1: Rent a furnished apartment in line with the rules
It might sound obvious said this way, but it remains important to specify that, to put an apartment on the furnished rental market, the property in question must be "decent, equipped in number and quality, to ensure the tenant a peaceful enjoyment".
You will find in this article the legal definitions of what decent housing is, and which things you will need to provide to your tenants.
The Alur law from March 2014 and the 25-4 section of the law from the 31st of July 1989 are the ultimate reference texts nowadays. They provide a solid framework for the furnished rental market.
The decree n°2015-981 of July 31, 2015, which entered into force on September 1, 2015, has explicitly defined a list of mandatory equipment that a home must include in order to qualify as furnished accommodation. An apartment furnished too lightly or insufficiently equipped could be redefined as empty housing.
So, what equipment should you provide your property with so that it qualifies as furnished?
Here is the list of the mandatory equipment that your apartment must include if you wish to rent "furnished":
Bedding including duvet or blanket;
A window shading device in rooms intended to be used as bedrooms;
Hotplates;
An oven or microwave;
A refrigerator and freezer;
The necessary dishes as well as some kitchen utensils;
A table and some chairs;
Storage shelves;
Lighting;
Household maintenance equipment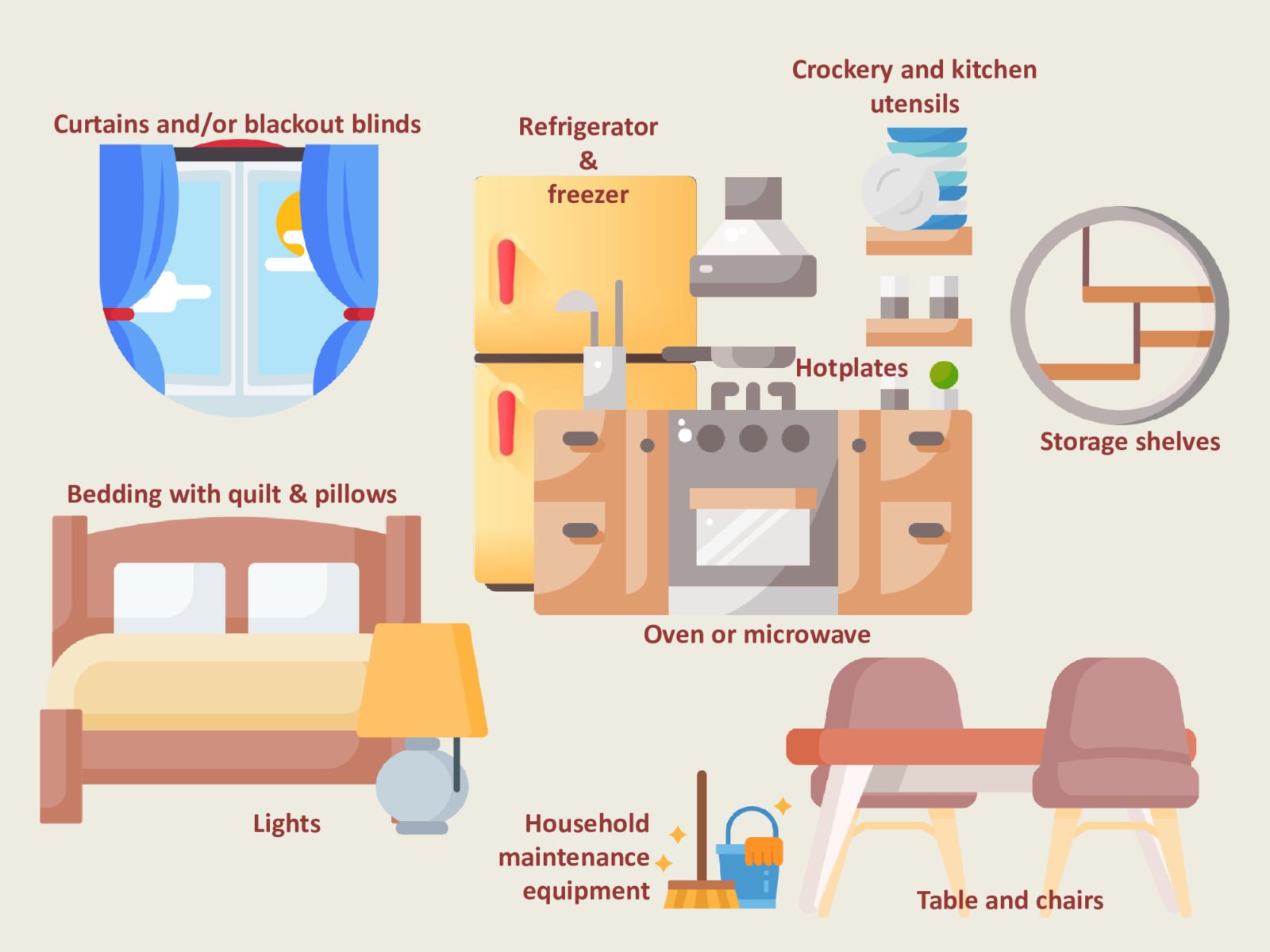 Legally speaking, linen, sheets and others are not required. That being said, our agency manages the rental of many apartments, and we provide all linen: sheets, duvet covers, pillow cases, towels, dishcloths. Indeed, it gives us more flexibility and enables us to answer tenants' requests more easily.
One last thing: make sure you possess all the property diagnoses before you rent your apartment. You will find all the useful information in our "What are the mandatory diagnoses?" article.
Tip #2: Offer quality housing
The tenants who are targeted for furnished apartments generally have a certain level of requirement. Therefore, they will most likely move towards well-kept properties.
In addition to the obligatory furniture, it is fundamental for the apartment to be adapted to demand thanks to a simple and neat decoration. The housing will also have to be functional and flawless (both visible and invisible).
We thus advise you to offer a renovated and functional accommodation. Choosing solid, modern and neutral furniture is very important in order to reach the widest possible clientele. The harmony of that furniture will also be a decisive aspect for the tenant in his apartment choice.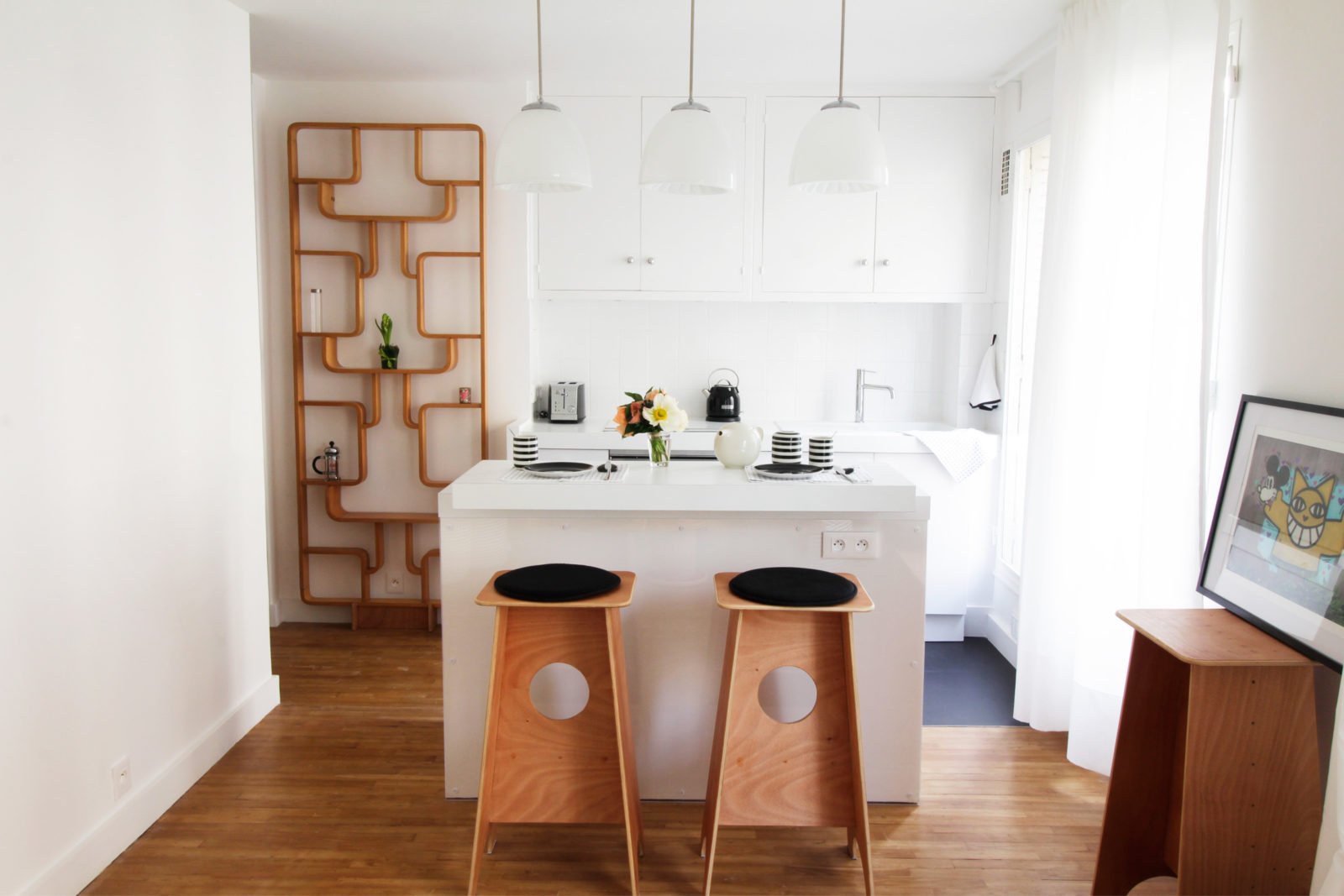 Investing large amounts of money is not the ultimate solution: keep in mind that the apartment must be functional, pleasant and user-friendly, which will obviously impact the amount of the rent!
If you consider renovating, we would recommend consulting a professional to help you with the decoration and layout.
Tip #3: Calculate the right amount for the rent
It is never easy for a landlord to define the amount of his apartment's rent. You will obviously need to put aside any emotional connection you may have to your property.
As a landlord, you must keep in mind that if your rent is too high, it will be more difficult to find tenants for it.
And even if we manage to find a tenant under the desired conditions, for instance someone who has a crush on the apartment or who didn't have time to properly analyze the market, it remains highly possible that over time, he will discover other apartments with equivalent characteristics, but at a lower rent. Then he might be tempted to search further, or even to give notice of departure, which would in fact lead to a new tenant quest.
How to set the rent amount?
Our knowledge and expertise in the rental market will help you set a fair rent. This rent must be consistent with the furnished rental market, as well as with the qualities and characteristics of your apartment.
The rent will naturally depend on:
the geographical location of your apartment;
the living area measurement;
the furniture quality (don't forget that you are renting furnished);
the equipment provided in the apartment (washing machine, dishwasher, television, etc.);
more subjective criteria such as the brightness, the view or the charm of the building.
If you are looking for more precise information about the rent and how to define it, you can go to the section "how to set your rent" (lien) of our Advice for owners section or try our designated tool.
Tip #4: Choose the right tenant
Choosing a tenant is not the easiest thing when renting your apartment. Our agency will put all its experience at your service to assist you in this process.
The most decisive element here remains the study of candidates' files.
In order to help you select the appropriate candidate, we advise all owners to inquire about the progress of carried out viewings, but also about the discussions with the potential tenants.
As a first step, it is essential to constitute the tenant(s)' file(s) but also to ensure that all information can be verified.
It is customary to consider that a tenant must get an income equal to or greater than 3 times the amount of the rent.
You will find below the list of documents usually requested to candidates in order to constitute their file(s).
Student / Intern

Employee and/or Guarantor

Copy of identity document or passport (both sides)
Copy of the student card (both sides)
Copy of the education certificate
Copy of the internship agreement
Copy of the 3 last rent receipts

Copy of identity document or passport (both sides)
Copy of the employer's certificate
Copy of the 3 last pay slips
Copy of the last income tax notice
Copy of the last property tax or the 3 last rent receipts

Liberal profession

Company

Copy of identity document or passport (both sides)
Copy of the two last income tax notices
Copy of the company registration or equivalent
Copy of the last property tax or the 3 last rent receipts

Copy of a company registration less than 3 months old
Copy of the signatory's identity document or passport (both sides)
Copy of the occupant's identity document or passport (both sides)
Copy of the employer's certificate
Copy of the last tax return
Copy of a signing authority if the signatory is not appearing on the company registration
A real estate professional, especially if he is a specialist in the management of furnished apartments, always does his best to verify the veracity of the supplied documents. Having confirmation that certain elements have been verified (income tax notices, employment, former rent receipts) can avoid unpleasant surprises and facilitate the selection of the final tenant among all the candidates.
Once the tenant settled, it will be important to stay in touch with him, to make sure that everything is going well, and above all, to be available in case of problems. Putting your apartment under rental management in an agency means you don't have to worry about this type of things, even more when the agents and the maintenance team are ready and responsive whenever an issue appears.
To sum up
In order to rent your furnished apartment, you will need to offer a high-quality, decent and up-to-date accommodation, valued by a consistent rent. Targeting your tenant adequately will also be a determining point, since it will allow you not to waste time on various aspects.
To ensure that your rental complies with the imposed rules, and that your offer is attractive, it is crucial to refer to the various points discussed above.