Living in Paris is a dream for many people around the world. Indeed, the City of Light is one of the most coveted because of the treasures it has to offer, whether it is in terms of quality of life, culture or scholarship. But whether you are looking for a student rental or a pied à terre in Paris, the problems you will encounter are the same. In this article, we will try to answer all the questions you might have when you decide to rent a Parisian apartment.
How much does it cost to live in Paris?
Although it has been surpassed by Tel Aviv in 2021 in The Economist's ranking of the most expensive cities in the world, Paris remains a city with an extremely high standard of living. Admittedly, rents are less expensive than in large American cities such as New York or San Francisco, where the average price of a studio apartment is well over $2,500 per month. However, daily expenses for household goods and food are higher.
In Paris, the average cost of a studio apartment is 808 euros (921 dollars). Moreover, in the case of a furnished apartment, the rent is generally 20% higher than the rent for an equivalent empty apartment. Of course, the rent can vary drastically depending on the districts and neighborhoods of the capital. Overall, however, it is difficult for someone who does not have a high income to find a place to live in Paris.
The map below clearly shows the areas where rents are the highest in Paris. It shows the western part of Paris and the first 6 arrondissements as the areas where apartments are most expensive. This seems quite logical since these are the areas where the most tourist attractions are concentrated.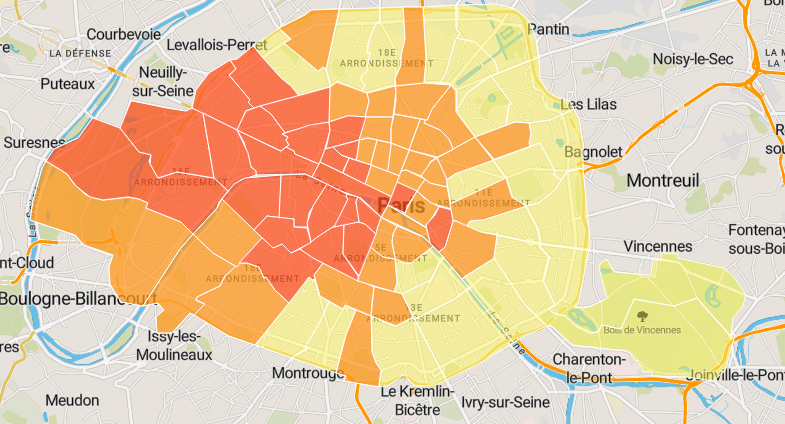 It should be noted that while the Paris metropolitan area has 11 million inhabitants, the city of Paris itself has 2.2 million inhabitants. Moreover, the modest size of the city (105 km², which is 7 times smaller than New York, 15 times smaller than London and 21 times smaller than Tokyo) makes it very densely populated and very difficult to build new housing. This is why many people who work in Paris choose to live in the suburbs.
What criteria should you use to choose your apartment?
Choosing the right neighborhood
Living in Paris is not easy when you are French, but it is even less so when you come from abroad. This is why it is important to prepare your future move in advance and "study the landscape" even from a distance.
As we have seen, the budget allocated to the rental is a determining phase and it is important to know that in order to rent an apartment in Paris, tenants are most often required to have an income equivalent to three times the amount of the rent. If this is not the case, the support of a guarantor with this financial capacity will be required (see below).
The choice of the geographical area where you want to live does not only depend on your financial capacities. It also depends on your preferences and, for those who plan to live in Paris for work or study, on the trips you will have to make. Thus, selecting a neighborhood according to its proximity to a metro line leading directly to the office or university is recommended. This avoids the need to change subway lines in the morning and therefore saves time.
If an extra ten minutes per trip doesn't seem like much in theory, it still amounts to more than 80 hours over a whole year. That is more than 3 full days needlessly spent in the metro! So don't hesitate to study the map of the Parisian metro, available on the RATP website.
Finding the right apartment
Visiting an apartment can often be difficult when you are far from Paris, so you must also be careful to properly evaluate the size of the apartment. The same goes for its features and the storage space you might need. Also, do not hesitate to ask the rental agency for as many photos as possible or even to organize a virtual visit. This will give you the opportunity to ask all your questions at that time without having to come in person.
Other criteria can be either obstacles or decision factors. So be sure you have all the elements in hand before starting the next phase. Among these, it is not trivial to take into account:
the view and the orientation,
the floor,
the presence or not of an elevator,
the existence of a shower or bathtub,
the various equipment you consider essential (oven, microwave, dishwasher, washing machine…).
How to prepare a rental file ?
French specificities
You probably know this, but it is important to understand it before moving in: France is the country of administrative paperwork. And real estate is no exception, far from it. French law is written in such a way as to be very favorable to tenants, so that it is very difficult for a landlord to evict a tenant.
This protection is unfortunately accompanied by a great difficulty for the tenant to access housing and explains why landlords and rental agencies want to make sure that the prospective tenant is solvent before renting them their apartment.
You must therefore pay particular attention to the constitution of your solvency file and make sure that it is as complete as possible.
The various elements of the file
In order to constitute your file and thus to claim to obtain the apartment of your dreams, certain elements will have to come to provide your file of solvency.
Owners and agencies cannot ask you for just anything, the list of things they will ask you for is regulated by law:
a certificate from your employer,
your last tax notice,
your last three pay slips.
You will also have to be in a permanent employment contract (in the case of active people) and ideally have a person who will vouch for you.
As an example, here is the list of elements that My Apartment in Paris requires from people who wish to rent one of our apartments:
Student / Intern
Employee
Liberal profession
Company
• Copy of ID (R/V) or passport.
• Copy of student card (R/V).
• Copy of the school certificate.
• Copy of your internship agreement.
• Copy of your last three rent receipts
• BBAN.
• Copy of your identity card (R/V) or passport.
• Certificate from your employer.
• Copy of your last 3 pay slips.
• Copy of your last income tax notice.
• Copy of your last property tax or 3 last rent receipts
• BBAN.
• Copy of your identity card (R/V) or passport.
• Copy of your last two tax notices.
• Copy of your Kbis or equivalent.
• Copy of your last property tax.
• Copy of your last property tax or 3 last receipts
• BBAN.
• Copy of the company registration less than 3 months old.
• Copy of the signatory's identity card.
• Copy of the occupant's identity card (R/V) or passport.
• Copy of the employer's certificate.
• Copy of the last tax return.
• Copy of the power of signature if signatory not on the company registration
• BBAN.
The importance of a guarantor
What is a guarantor?
As mentioned above, the support of a guarantor ("caution") is essential to rent an apartment if your income is not equivalent to three times the rent.
According to the definition given by the Service-Public.fr website:
The guarantor shall be a person or body who undertakes in writing (bond) to pay the rental debts owed by the tenant mentioned in act of guarantee. These include:

– the rent and charges, as well as any interest charged to the tenant for late payment of the leasehold debts

– the cost of rehabilitation of the damaged accommodation.
A guarantor can be a natural person (a parent or relative) or a legal entity (bank, company). The guarantor's income must correspond to three times the amount of the rent.
Can a foreigner be a guarantor?
Legally speaking, nothing prevents a person living abroad from acting as a guarantor for a tenant. However, landlords are often more reassured if the guarantor is French and they can demand it.

Of course, not everyone knows a person living in France who can act as a guarantor. This is why more and more foreign tenants are using specialized companies that provide financial responsibility to landlords in case of default of payment by the tenant. My Apartment in Paris is a partner of the company Garantme and we recommend that our foreign tenants go through this organization.
To wrap up
The road to renting an apartment is full of pitfalls. It is even more difficult when you come from abroad. The need to have a guarantor living in France, the lack of knowledge of the neighborhood or of the specificities of Paris make things even more difficult for someone doing the procedures from a distance. It is advisable to go through an agency to make the process more fluid. Don't hesitate to take time to make your choice and put together your file.
For more information, do not hesitate to consult our FAQ.